Well it was a scorcher at this year's ride, around 100 degrees. Not the nice 80 degree weather we had the year before, and yet we had a wonderful time. Fun was had by all.
This photo, taken by Lance, shows some of the great scenery along the ride.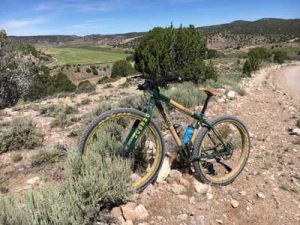 Remember to mark your calendars for next year: June 16, 2018!
If you have never been, but are thinking about coming, or if you have been and need encouragement to come back read on!
Great ride yesterday!!!  Thanks. — Lance


The support was incredible. All the water jugs left on the road were superb and greatly appreciated, especially that last one after the very hot return from lunch. — Deb


Just a HUGE THANK YOU AND how AWESOME the 2017 Gravel Grinder was this year!! Even better then the ride was the hospitality of the Lincoln County Nevada State Park Rangers and all the personnel working the Grinder.. I really don't come for the ride as much as the friendly atmosphere, the beautiful well kept parks and the oh so delicious dutch oven cobbler and that yummy potato salad!! You will see us up in the Fall for the Park to Park and also next years gravel grinder.. Don't change a thing.. you all should pat yourself on the back and congratulations to a superb riding event.. We appreciate and acknowledge ALL of your hard work for this event and throughout the year!! — Barb

Hope to see you all next year!