Things to do at Beaver Dam before or after the ride…
Come out the day before ride and enjoy a night of camping. There are plenty of sites tucked into the trees, each with a picnic table and fire pit. Like to fish? Bring your pole along because nice trout can be caught in streams*.
Hiking trails lead to hidden treasures in the park. Take the trail out of Campground B up to overlook that affords hikers a 360 degree view of junipers, pines, streams, and volcanic hoodoos. Or explore the south-eastern park boundary by hiking Nevada State Park's original trail—the Waterfall Trail. Cut-in by the Civilian Conservation Corp boys in the mid-1930s while building the Park, this mile long trail winds up the hillside through willows and volcanic rock formations to a waterfall and further up to a hot spring**. It is not only the furthest Park boundary but also the Nevada/Utah State line. Not everyone can say they hiked from Nevada to Utah!  Other access trails take you to streams and beaver ponds throughout the park.
Things to do in Lincoln County, Nevada
Stay and enjoy all Lincoln County, Nevada has to offer. With four more State Parks in a 50 mile radius you can stay busy for days! Each Park sports hiking trails and campgrounds and opportunities galore.
Cathedral Gorge is northwest of Beaver Dam. Explore the slot canyons, walk the trails, or, if you haven't logged enough saddle time–mountain bike the Juniper Draw Trail. Following formations around the valley floor, this trail will take you past some of the most interesting slit stone hoodoos and formations in the Park.
Further to the north you find Echo Canyon and Spring Valley State Parks. These water parks draw anglers*, kayakers, and hikers.
The Ash Canyon Trail at Echo Canyon weaves through the canyon with its 300 foot walls and incredible ash-tuff rock formations. This three mile trail is not for the faint of heart as one section follows a narrow ledge above the canyon floor. The Overlook Trail at the lower campground winds through a small canyon up a hill to a plateau where you can see the lake and all the way down Echo Canyon. This incredible view is worth the short hike.
Take some time to experience the Stone Cabin Trail at Spring Valley State Park. Leading through junipers, squaw-berry bushes, grasses, around creeks and springs, and ash-tuff rock formations, you find this trailhead at the Stone Cabin about 1.5 miles into the Park. Visit the Stone first then take a hike.
Kershaw-Ryan State Park is south of Beaver Dam in Caliente. Tucked into Rainbow Canyon this small but mighty park has a great trail that leads to an overlook where you can see all the way down the canyon. You might even get to see a train coming through the canyon while you are up there.
*Fishing license required. One can be purchased n Caliente or Pioche. For more information visit the NDOW site.
**Use of hot spring is not recommended due to potential health hazards.
Where to Stay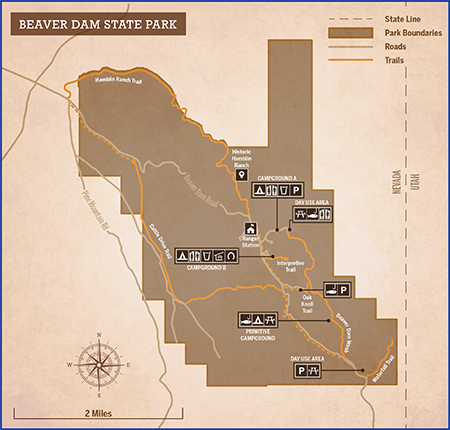 Camp
Make it an adventure weekend and camp at the park! Pitch a tent or bring a small camper. Beaver Dam has two developed campgrounds (A and B) offering individual campsites, each containing a fire pit, picnic table, and parking suitable for one vehicle plus a small trailer. Trailers over 25 feet long are not recommended because of switchbacks on the Park road.
Registration, start and finish are at the Group Use Area in Campground B.
---
Motel it!

Caliente, NV is about 35 miles from Beaver Dam State Park.